Rehab & Performance Expert Enda King Reveals His Secrets to Rehab the 3 Most Common Muscle & Tendon Injuries
Claim your seat on our online course "The Big 3 – Advanced Rehab of of Hamstring, Quadriceps & Calf muscle and Tendon Injuries" To Improve your Rehab, Reduce Injury Risk and Optimize Return to Play!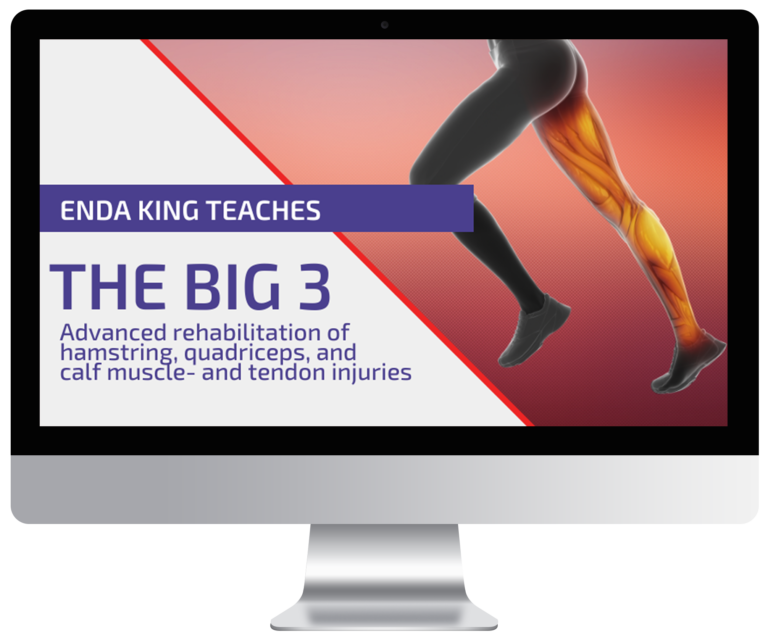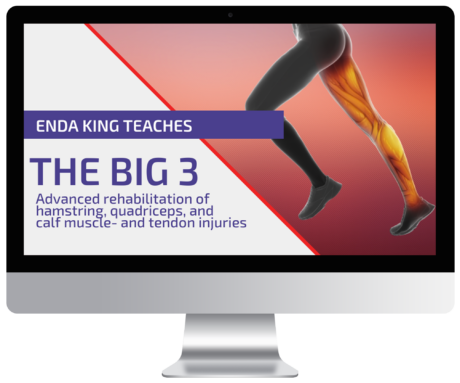 Finally…An Easy & Affordable Way to Learn Proven Concepts to Best Rehab Patients with Muscle & Tendon Injuries
Are you sick of spending a huge amount of money on continuing education courses? Tired of spending your weekends on those courses instead of with your family (or friends)? And looking for ways to provide the absolute best care for your patients with muscle & tendon injuries faster? In our Online Course "THE BIG 3 – ADVANCED REHAB OF HAMSTRING, QUADRICEPS AND CALF INJURIES & TENDONS" by rehab and performance expert Enda King (PhD. MSc. ASCC) we help you to become an absolute specialist in muscle & tendon injuries in the shortest time possible from the comfort of your home.  Enda King has shown thousands of physios, strength and conditioning coaches and other health care professionals how to easily screen, diagnose and treat muscle & tendon injuries and how to optimize performance without years of hard work and trial and error. He has helped thousands of therapists to level up their game, and together we can do the same for you too.

Simply follow our Proven Rehab and Performance Strategies to Success &
Get your patients back on the pitch as soon as possible
Increasing your confidence in the screening, diagnosing and treatment of muscle & tendon injuries be much easier than you think. Many therapists simply don't know how to structure their rehab program which prevents their patients to unlock their potential. We've done all the hard work for you, so all you need to do is follow our step-by-step clinical principles and you'll provide the best care possible for your patients in no time.
Here's A Brief Outline Of What We'll Cover In This Online Course
⛓️ 1. TENDON PHYSIOLOGY  (4 hours):
– Tendon Structure & Mechanical Properties
– Tendon Adaption in Response to Loading
– Tendon Pathogenesis, Healing & Management
💪 2. MUSCLE PHYSIOLOGY (4 hours):
– Muscle Structure, Function & Mechanical Properties
– Muscle Adaption to Training
– Muscle Pathogenesis & Healing
🦵 3. THE BIG 3 – ANATOMY, PATHOMECHANICS, RISK FACTORS (4 hours):
– Hamstring Muscle & Tendon
– Quadriceps Muscle & Patellar Tendon
– Calf Muscle & Achilles Tendon
🏋️ 4. REHABILITATION STRATGIES (6 hours):
– What do I need to assess?
– Common Rehabilitation Mistakes & Pitfalls
– Rehab: Strengthening
– Rehab: Motor Control
– Rehab: Power/Reactive Strength
– Rehab: Running & Change of Direction
⚽ 5. TRANSITIONS & RETURN TO PLAY (2 hours):
– Bringing it all together
– 3 Case Studies
– The Big 3 – Course Quiz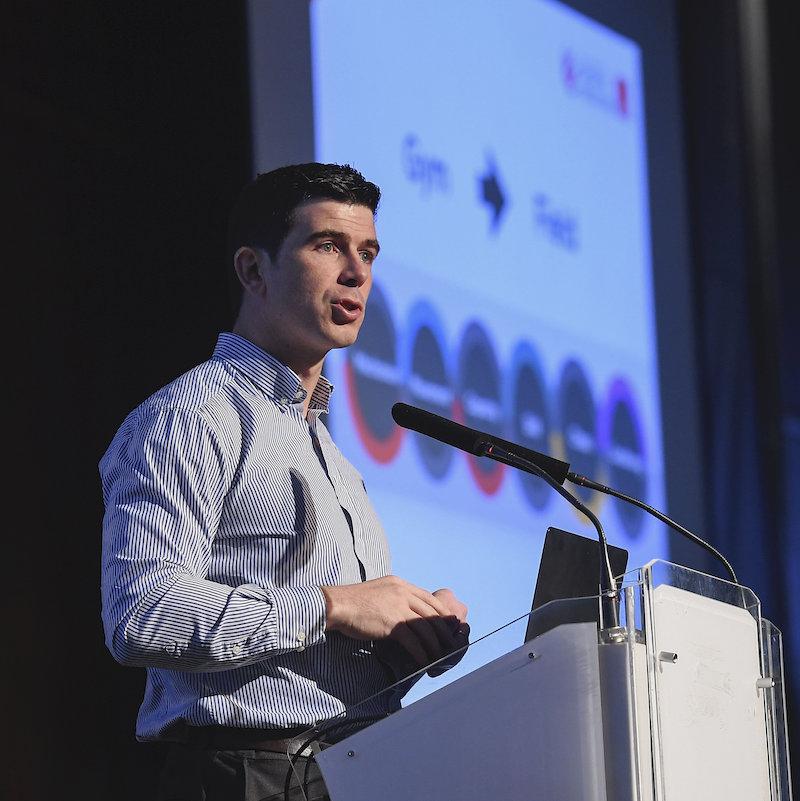 A Lot Of Therapists Offer Suboptimal Care for Their Patients
Sadly, a lot of therapists will never become real experts of muscle & tendon rehab! It's not their fault, they (as we) just haven't been taught the necessary knowledge and skills at university. It doesn't have to be this way for you though.
We can show you exactly what we do to analyze, diagnose and treat the 3 biggest tendon & muscle injuries and how our students were able to bring their patients back on the pitch. Sign up today to see how you can achieve similar results, and do it much faster than you ever thought was possible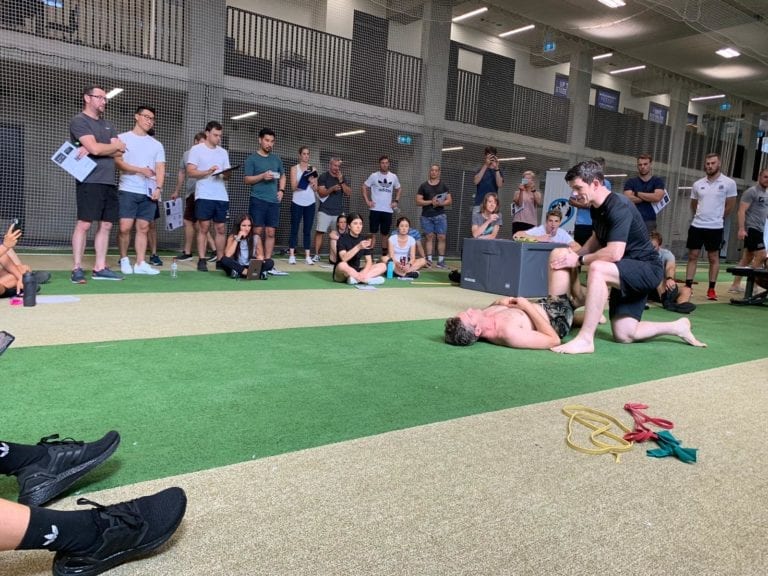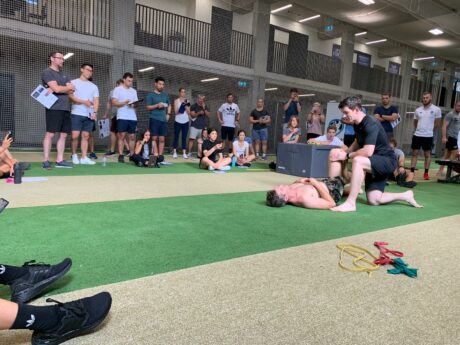 Save Yourself Years of Costly Trial & Error By Using Our Proven Rehab Concept To Help Patients From Pain to Performance
Why waste years and money struggling along, trying to figure things out for yourself? You can save this time and money and get a much better result when you get our expert advice and use our proven 5 chapter course to become a tendon & muscle injury expert. It's like a shortcut to know exactly how to assess & manage the patient you're seeing in practice tomorrow.
Are you ready to become a muscle & tendon rehab specialist in the shortest time possible? To have more confidence without years of hard work it usually takes? Then claim your seat while you still can.
About the Instructor
Enda King
PhD. MSc. ASCC
Enda is a physiotherapist and strength & conditioning coach and head of performance at the Sports Surgery Clinic (SSC) in Dublin.
Enda's worked has been focused on research and clinical practice of lower limb injuries. In particular, muscle & tendon injuries, but also overuse injuries of the hip and groin and rehabilitation after ACL reconstruction.
He's been teaching several sports rehab courses all over the world for X years now and is offering his unique course online for the first time in collaboration with Physiotutors.
Follow Enda on Twitter on @enda_king
Here's Another Taste Of What You Can Expect When You Book the Online Course
👣 ​ A step-by step guide on muscle & tendon rehab by a world-leading expert:
Enda's expertise will help you to evaluate the injured athlete, how to deal with the most common muscle & tendon injuries and how to get your athlete back to his/her sport with improved performance
⌛ Study Whenever You Want:
You can start this course whenever you want and study at your own time and pace. This is no silly 2 day weekend online course or a course that you have to attend at fixed times.
You will also get access for 1 year, so you can always come back and refresh your knowledge. No annoying subscription models, but a ONE-Time payment (or pay in 3 installments)
📚 The Latest Research & Science:
References used from hundreds of scientific papers (direct links to PubMed provided) and further reading material for you to to dig in deep!

💰 Fully Packed Content worth €750+:
20+ hours of content in 19 units that would normally costs €750+ if we compare it to the usual CPD courses which charge €250-300/7h
🎲 ​ Gamified learning experience:
Collect credits by handing in the case studies to lock in the learning and test your knowledge in the final course quiz
🤓 Active Learning Approach:
You don't learn from just watching 20 hours of videos. We believe that different media and engagement is necessary to really improve your knowledge
📱 ​Accessible on All Devices from Wherever You Are:
Access the course on your laptop, phone or tablet from the comfort of your home or while you're in the bus, tram or train
🎓 CEU/CPD points:
Course accreditation in most countries, just ask us if this is relevant for you.  Accreditation points for the KNGF registers algemeen and sport (requested) as well as Keurmerk & Pro-Kiné.
🏆 Award Winning Team:
Andreas & Kai have won the award for the best Bachelor Thesis in Europe in Physiotherapy for their research on Blended Learning in Healthcare back in 2016. We have more knowledge and experience in the design of online learning
☝️ ​ #MoreThanAWebinar:
So many webinars are popping out of the ground everywhere with lousy video content recorded on a webcam. Don't make the mistake to waste your hard-earned on a 2-day zoom call with a speaker!
Claim Your Seat on the Big 3 – Advanced Rehab of Hamstring, Quadriceps and Calf Muscle & Tendon Injuries (Worth €750+)
*Covers 20+ hours of content. Compared to the usual costs of a 14 hour weekend CPD course rating at €250-300/7h
This is ONLY for people who are serious about becoming better clinicians. So if you don't want to put in the work and the study time to really become better, then this course is probably not for you and it's better to just watch a webinar of an hour to relax at the end of the day. But if you ARE serious, then save yourself years of costly trial & error by using our proven clinical reasoning strategies to provide the best care possible for your patients with muscle & tendon injuries.
Course Reviews
5 stars

8

4 stars

0

3 stars

0

2 stars

0

1 stars

0